A well-planned wedding ensures elegance, with key elements including floral decor, lighting, table arrangements, stationery, music, and stylish wedding band rings.
The floral decor adds a vibrant, romantic touch to the venue, while carefully chosen lighting creates a warm and magical ambiance.
The tablescape, which includes table linens, centerpieces, and tableware, sets the tone for the dinner and leaves a lasting impression on guests.
An elegant and cohesive stationery design sets the tone for the wedding, while the right choice of music enhances mood and atmosphere.
You've dreamed of your wedding day and now it's time to plan. But how do you transform your venue into a vision of elegance? This article will explore the essential elements to achieve a tasteful and sophisticated wedding. From choosing the right color palette to selecting the perfect decor, this will offer tips and advice to help you create an unforgettable event.
Start with a Wedding Plan
Before diving into the details, it's crucial to sketch out a comprehensive wedding plan that will serve as your roadmap to a successful event. Here are some things to consider:
Focus on Floral Decor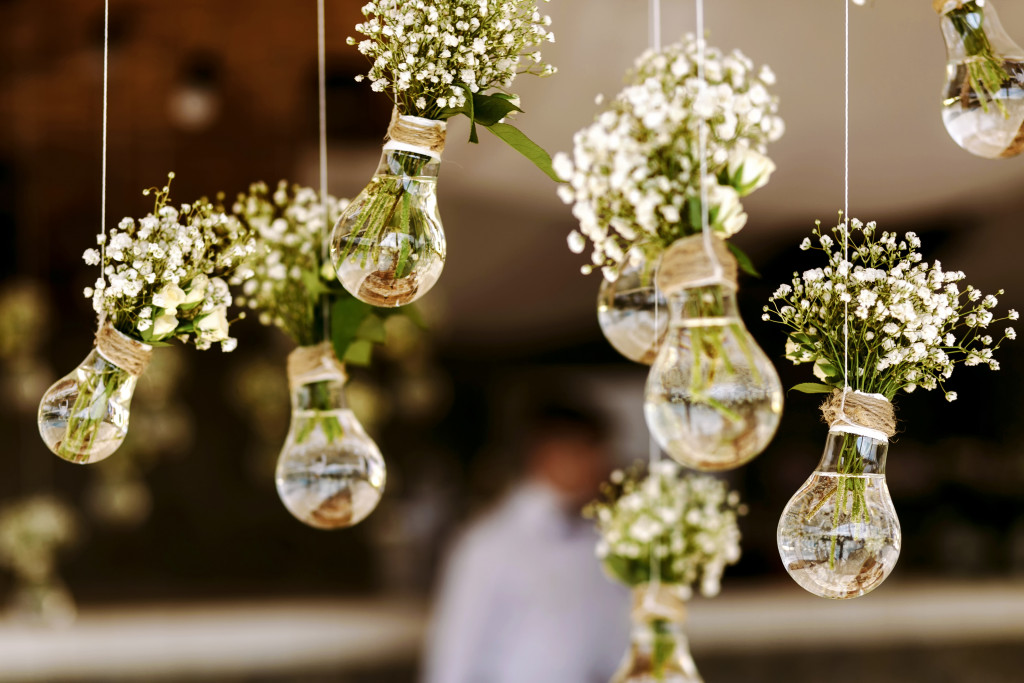 Floral decor stands as a timeless element in wedding celebrations. The beauty and fragrance of flowers not only add a sense of freshness but infuse the venue with an aura of romance and elegance. When choosing floral decor, consider your wedding theme and color scheme.
Opt for flowers that complement your palette, and don't be afraid to mix and match different types to add texture and depth. For a classic look, roses, lilies, or hydrangeas can be excellent choices. If you're aiming for a rustic vibe, consider wildflowers or sunflowers.
Remember to incorporate your chosen flowers into various aspects of your decor, from table centerpieces to aisle decorations. With a thoughtful selection and placement, floral decor can elevate your wedding venue from ordinary to extraordinary.
Choose the Right Lighting
Lighting can dramatically impact the ambiance of your wedding venue. Indeed, the right lighting can transform an ordinary space into a wonderland full of warmth, intimacy, and magic. For indoor weddings, consider using chandeliers or fairy lights for a touch of elegance and enchantment. Dimmable lights can control the intensity, allowing you to create different moods at different event stages.
Outdoor weddings, on the other hand, can benefit from string lights hung across trees or along pathways, creating a romantic, starlit effect. Candlelight, with its soft and warm glow, can add an element of romance and intimacy to any setting.
Lanterns, whether hanging or tabletop, can also add a distinctive charm. Remember, the goal is to use light to enhance the natural features of your venue, highlight focal points, and create a captivating atmosphere that will leave your guests in awe.
Consider the Tablescape
The tablescape, or the arrangement and decor of your dining tables, is another crucial aspect to consider while planning your wedding decor. A beautifully set table can offer a feast for the eyes and set the tone for the dinner. Start by choosing table linens that match your color scheme. Next, consider the centerpiece which could be a charming floral arrangement, a collection of candles, or a mix of both.
Then, select tableware that complements the overall aesthetic. Fine china and glassware can add a touch of elegance, while rustic elements like wood or earthenware can foster a casual, cozy atmosphere. Remember finer details like napkins, place cards, and menu cards. Personalized touches can make your guests feel special and appreciated. Remember, a thoughtfully designed tablescape can not only enhance the dining experience but also leave a lasting impression on your guests.
Invest in Elegant Stationery
Elegant stationery is another crucial element that can enhance the aesthetic appeal of your wedding. This includes your invitations, save-the-dates, and thank-you cards, as well as day-of items like menus, programs, and place cards. Invest in a cohesive design that aligns with your theme and color palette.
For instance, if your wedding leans towards classic elegance, consider using a traditional script font on a clean white background. For a rustic wedding, a mix of handwritten-style fonts paired with a kraft paper background could work well. Remember, your invitation is the first glimpse your guests get of your upcoming nuptials, so ensure it sets the right tone.
As with everything else, attention to detail can make all the difference, so consider elements like quality paper, beautiful typography, and tasteful embellishments. With the right stationery, you can leave a lasting impression on your guests and create a beautiful memento of your special day.
Don't Forget the Music
Music plays a pivotal role in setting the mood and tone of your wedding. From the moment guests arrive, to the walk down the aisle, and throughout the reception, the soundtrack of your big day should resonate with your style and the wedding theme. Whether you opt for a live band, a string quartet, or a skilled DJ, ensure the music aligns with the atmosphere you want to create.
For instance, classical music can imbue your ceremony with traditional elegance, while a jazz band might lend a cool, sophisticated vibe to your cocktail hour. Don't forget to curate a playlist for the dance floor, including a mix of timeless classics and current hits to keep guests of all ages entertained. Remember, the right music can evoke emotion, generate excitement, and turn your wedding into a memorable, joy-filled celebration.
Select Stylish Wedding Band Rings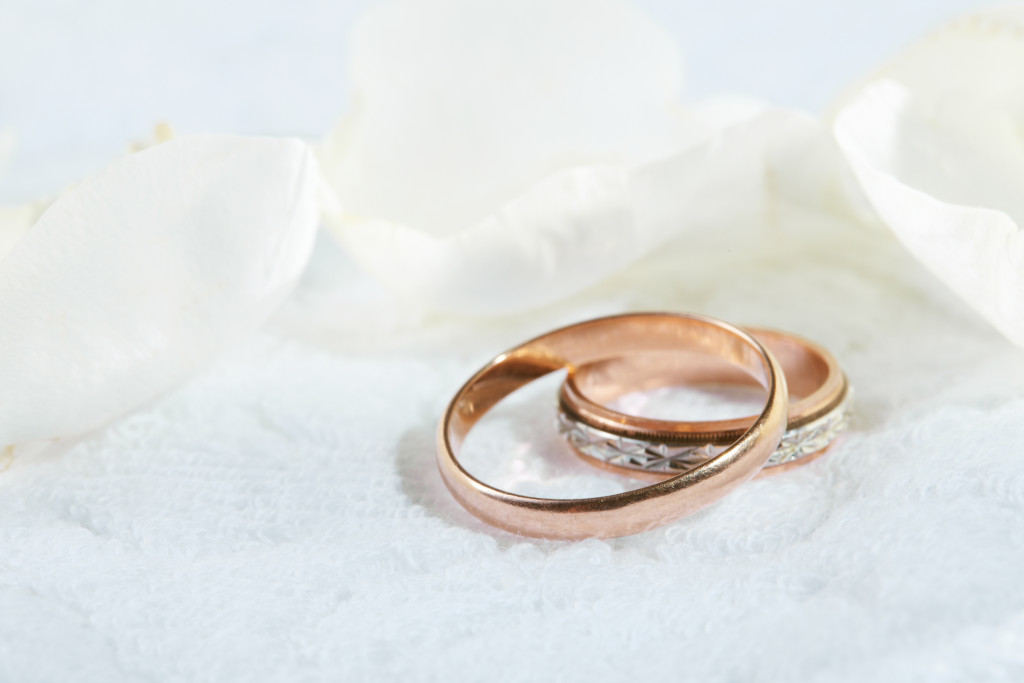 Selecting stylish wedding band rings is a vital aspect of your preparations, symbolizing your commitment and the everlasting bond you share with your partner. Opt for rings that reflect your style and the spirit of your marriage. While traditional gold bands are a timeless choice, modern couples may explore various materials like platinum, titanium, or environmentally friendly-recycled metals.
Consider customization options like engraved names or the wedding date for a personal touch. The design of the ring should not only be visually appealing, but also comfortable for everyday wear. Whether you choose simple elegance or intricate designs adorned with gemstones, remember that these rings encapsulate the essence of your love story and the promise of your shared future.
In conclusion, curating an elegant wedding requires careful planning and a keen eye for detail. From the floral arrangements to the music, every element contributes to the overall ambiance. Your wedding reflects your love and commitment – make it unforgettable. Now, it's your turn. Start planning your elegant wedding today!